PRIX DE NORVÈGE
Every year,  some promising graduating students are rewarded with the Prix de Norvège.
Until now this was reserved for 2 graduate students of the Classical Academy in Groningen.
To be expanded from next year onwards to include a graduate from our members elsewhere in the world:
in 2022 +1; in 2023 +2; in 2024 +3.
The prize consists of a well-organised trip to the Norwegian Fjords, at the invitation of the Norwegian Dutchman and artcollector Egbert Pijfers. In this way he allows promising talent to gain inspiration in the impressive nature of Norway.
Have been selected so far:
2013, Saskia Dingelstad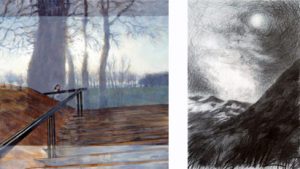 2013 Tim Galvin
2014 Mineke Gravers
2015  Niklaus Peter
2015 Randolph Algera
2016  Hana Vendlova
2016  Heleen Kater
2017 Marja Dijkstra