Van Hope Railey
Hope Railey was born in New Orleans and graduated with an MFA from the Academy of Art in San Francisco before training with Glen Orbik at CAI. She then taught beginning drawing and painting at the Academy while participating in numerous group and two person shows in San Francisco and Los Angeles before relocating to Southern California. She has become a respected teacher and artist in the academic fine arts world and has been included in todays top fine art exhibitions featuring academic works. Her work has been exhibited throughout California and is held in Fine Art Collections throughout the country.
"As a painter,
I have continually returned to the figure as the main vehicle in my work. I have found there always to be further discoveries to be made, both technically and conceptually. I am grounded in classical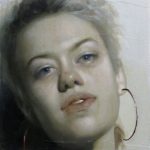 principles and historical perspective, which has allowed me freedom in my work. This has been my most cherished reward as a representational artist, and is what I hope to share with my students." – Hope.